Venus Sophia
Advanced Tantrika & Teacher
Fully Vaccinated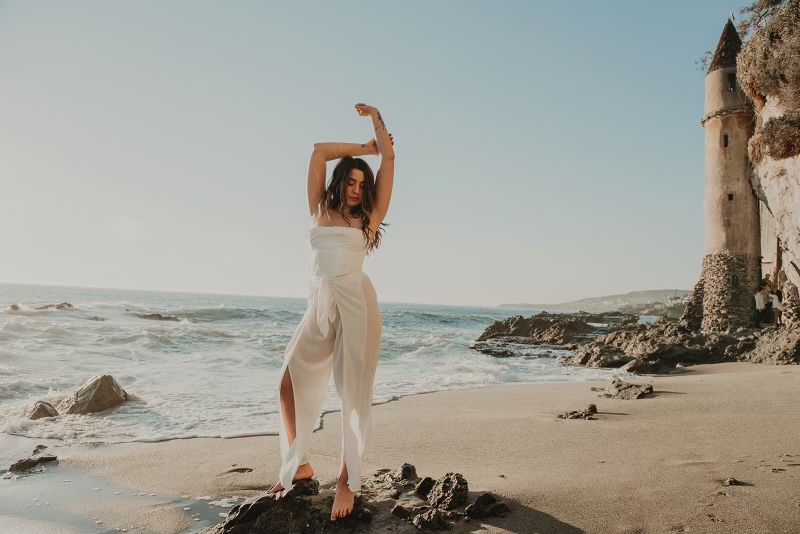 ---
Hello Sweet Friend, 
As a healing priestess of the ancient arts of bellydance, painting, and music, I hold integrity to the highest value, and invite you to do the same, by honoring your joy, your health, your soul. I am a warm, kind woman with laughter in her heart and of sharp wit, finding peace in breathwork, yoga, painting, healing touch, and dance. It is important to maintain one's energy in order to be of service to others, and it is a daily practice for me.
Acts of service are a highly defined love language for me, and having been raised by healers in the Middle-East, it is my strong intention to guide you with my intuitive, soft touch towards your Highest Good, for the Highest Good towards All. 
I thank you for exploring my page, as I am new to this Temple, but well experienced with forming strong connections and happily exploring love and life's curiosities. 
Heart opening connections are a complete joy to me, and I look forward to our time together, reveling in Presence.
Venus Sophia
Tantra Illuminated Workshop: The Ecstasy of Being 2022
Tantra Illuminated Workshop: Stanzas on the Recognition of Divine Consciousness 2022
Graduate of the Holy Love Institute as a Shivakti Tantra Yoga Teacher 12/21/2020, 200-hour Yoga Alliance.
Temple of Bliss Dakini 3+ years experience
Initiated & Trained multiple new Dakinis into the Temple

See My Personal Schedule and Book

To Submit Your Testimonial Click Here

If you're lucky enough in this lifetime, you can meet people that are transformational in your life. Yes, that might sound like hyperbole, but my experience with Veus Sophia was nothing more than transformational. Her smile can light up a cathedral in Rome. Her energy can power all the lights in Las Vegas. Her skill is incomparable. No knock to anyone at the Temple, but Venus is a must see. She's not just beautiful, but she's smart and the nocerpon ypu ever want to meet. Book her now. You won't regret it!
Mel*
Aug 11th, 2023
Sophia enjoys to travel so catch her if you can. If your paths are lucky enough to connect, then enjoy every moment with this wonderful soul. She is warm, playful, mystical and beautiful inside and out. Mahalo for a beautiful session.
H*H
Apr 4th, 2023
Magical Transcendence!
Sophia is a beautiful soul full of love and warm embrace! Each moment you get to spend with this lovely goddess brings new feelings of Realignment and Revitalization.
Be open in receiving her gifts and gracefully fall deep into the loving space she provides. Her aura will bring you to new horizons! I am deeply appreciative of the new energy she showed me - it's absolutely unforgettable! Best session at the temple thus far!
Pm*
Mar 24th, 2023
Sophia's gentle touch, loving personality, and warm gaze has left me speechless. Just stunningly beautiful in so many ways. I was guided by a true goddess.
B**d
Oct 18th, 2022
Sophia is just stunning, beautiful in all the ways a person can be beautiful. Honestly, I wanted to book with her today, but she wasn't available. Oh well. Still, it reminded me why I keep wanting to see her over and over again. I've seen her quite a few times already, and each session always leaves me loving life a bit more. From yoga stretches to tantra, each minute just left me melting and forgetting the world around me. She's lived quite a life, and that has made her so knowledgeable and yet so compassionate and understanding. Do yourself a favor and schedule a session with her at least once, and trust me, you'll want to come back to see her over again and again too.
Br**
Oct 14th, 2022
Some things in life cannot be adequately expressed in words, and must be experienced, and so is spending time in Sophia's genuine presence. She is a sweet reminder of the magical power of true and heart-centred human connection.
Th*ft*
Sep 28th, 2022
Sophia is remarkable. She is the embodiment of so many faces and energies of the goddess. I have adored her from day 1 and it has been a complete joy to watch her grow and blossom into one of the most fragrant and gifted Tantrika Dakinis in the Temple. I just received a super yummy massage from her, all the right touches and pressures, intuitive and skilled. A must see! -Queen Love
Queen Love
Sophia is absolutely wonderful. She was so warm and welcoming from the beginning, with a nourishing hug. She listened carefully to where I was at that moment, and shaped the session around it. Her smile and laughter are infectious, and through her presence, touch, sensitivity, breathing, and eye contact, we established--and I felt to my core--a deep connection and an amazing flow of energy between us. I feel lighter and yet more grounded, relaxed yet energized, and want to hold on to this sense of energy and love going forward, to send it out into the world. I look forward to seeing Sophia again and again!
Eri*A
Aug 16th, 2022
Test is as follows
Does one leave a session with Sophia physically and emotionally improved
Answer
Massive yes
Over the top endorsement
Pg*
Sophia was highly recommended to me by one of my favorite Temple therapists, and she was even better than I was promised. Very warm and kind, and she offers some personal touches that makes seeing her a very unique experience. And her smile – it's so wide and bright one almost needs sunglasses.
Sophia is a great person with positive energy and an awesome touch. I can't recommend her enough.
Sh*re
Aug 14th, 2022
My three hour tantra session was a phenomenal experience. Sophia initiated me into the tantra practice, and I'm eager to explore some more with this lovely being.
*Batha*
Jul 20th, 2022
Sophia provided my first introduction to the Temple and my first experience with tantric bodywork. I can't really put into words how transformative this experience was for me. Instead, I'll just say that I wish she lived in my area as I'm still daydreaming about our time together several days later and it was so powerful that I came back to the Temple two times in the week following our meeting in an attempt to find similar magic with other dakinis.
*AnSk*
Jun 18th, 2022
Absolutely a pleasure. What a nice person - inside and out! Had a very relaxing and reinvigorating session which untangled up a lot of knots- and I am not speaking about the physical ones! Believe some people are here to help to counter all the negativity around in the world by spreading joy and positivity. Sophia will be one of those few!
B*H
Jun 8th, 2022
Reading all of these other reviews, I don't think I have the writing skill or capacity for language to adequately describe just how amazing my experience with Sophia was. Its hard to adequately describe the bliss I felt, so I'll say in the simplest way I can that my 90 minute session with Sophia was one of pure joy. I felt present and connected in a way that I've never felt before, and am so grateful for her patience and attention to my needs and insecurities. I can't wait to see Sophia again.
*Ki*
May 29th, 2022
Sophia has such a beautiful soul. She is deeply empathic, and opened her heart to hold space for me to work towards healing. Connecting with her felt nothing short of magical.
*bch*
May 17th, 2022
First time back in a while and what a blessing for my session to be with Sophia. She is talented beyond belief — beautiful in every way, emotionally open, confident, playful, and all while exuding deep joy and care. She sincerely wanted to know my needs, wanted to please and adore, and she definitely knew how. After an unhurried hour of restorative connection with her beautiful soul, she asked how I felt. "Blissful," I replied in all honesty. The smile it brought to her face says everything you need to know about this deeply special woman. Can't wait to experience her touch again.
*BiBe*
Mar 16th, 2022
What a gorgeous, mystical, magical human being; what a sensuous, joyful, playful experience. Sophia undoubtedly ranks among the world's best humans, which makes her pretty high up on the list of tantrikis as well. I will be back to see her as often as I can, and dream about doing so in the off-hours.
*WT*
Mar 13th, 2022
Thank you Sophia for an amazing experience! Truly a bliss
*Rajro*
Feb 27th, 2022
I just came out of a wonderful tantra session with Sophia. She is incredibly beautiful inside and out! She was very welcoming with her whole soul. I had to rebook with her later in the week because I wanted more of her tender love and care to soothe my soul!
*BB*
Jan 24th, 2022
It was my first time meeting Sophia and was not sure what to expect. Found her to be very warm and wellcoming and made me feel at home. The session left me in a transending state as she is very attentive, genuine and radiates with positive energy. Will definitely see her again.
*RaAc*
Jan 23rd, 2022
Sophia was one of the best tantric therapist that I ever had experienced. She is fully focused to give you bliss and makes sure that you receive her bliss and relaxation. Can't wait to be back from my Europe trip so I can book my next appointment with her.
*KSTA*
Jan 9th, 2022
On Friday, I decided to treat myself and opted for a doubles session with Sophia and Anika. This was my first time seeing either dakini, and it was one of the best decisions I've ever made. They both did everything they could to make me feel welcome and relaxed, but we also joked and talked about our background; it was truly bliss to look up at two beautiful women treating me like a king, a moment of heaven on Earth.
I regret not seeing Sophia before. She is absolutely beautiful, a true goddess. Honestly, I can't describe how beautiful this woman is. During the session, she joked and talked a bit about herself and was also interested in what I had to say, truly doing everything she could to make this the best experience for me, and it worked. I plan to see Sophia more often.
*BR*
Dec 14th, 2021
Sophia is a beautiful goddess with eyes that you just want to gaze in. She is full of empathy, grace and warmth. She greeted me at the door with a beautiful smile and a warm embrace, and just instantly connected with my body and soul. She asked me what my goals were for the session and then tailored it but went beyond my expectations. She understands tantric energy well and can really harness it for an out of body experience. I came out super relaxed with a deep sense of calm. I can still feel her blissful energy around me.
I am a Temple regular and everyone there is great and really take care of you, but my time with Sophia was the best so far. I would highly recommend her and will be seeing her again (very) soon!
*Sal*
Nov 28th, 2021
Revitalization, Realignment, and Peace. These are the three things that were uncovered with the beautiful soul that is Sophia.
If you need a down-to-earth spirit to ground you and set you back on your path, Sophia is your guide. With love and kindness, her caring touch transcends you onto a powerful and relaxing path, where you can harness your energies.
*Pau*
Oct 29th, 2021
Had an amazing session with Sophia. She has a beautiful loving and playful energy to her. She made me feel very comfortable and the whole experience was not rushed at all. I felt amazing during the session and I still feel high from it. Will definitely be back to see her. She is also insanely beautiful.
*Ran*
Sep 3rd, 2021
Sophia is a knockout. Her photos are great, but in person is where you truly get her sweetness, attentiveness, and gracefulness that make her so entrancing. I did a double with her and Scarlett Grace and their rapport was so harmonious & natural & playful, that I felt on top of the world to be the object of their attention. More than just a physical healing, they restored my spirit & I've been radiating good positive energy to others ever since!
*JoBe*
Aug 2nd, 2021
Each and every session with Sophia gets better and better. Her smile and openness makes you feel amazing. Her natural beauty makes it even more special. Leaving in total bliss after each session.
*BR*
Jul 23rd, 2021
I've seen Sophia twice now and can't wait to see her again. Its hard to think of better experiences I've had. She makes you feel loved and has you leaving rejuvenated. Literally the best energy around. Ty!
JB*
Jun 28th, 2021
OMG, Sophia is so sweet and easy to be with as well as being lovely inside and out.
My session with her was a dream, as she worked with gentle precision.
So glad to have met her.
Betit*
Jun 23rd, 2021
I have seen Sophia a few times now, as soon as she opens the door, she lights you up with her smile, you feel her beautiful heart, she makes you feel so welcomed. Sophia is so available to what your needs are, and she is so willing to take you into the experience you want. My time with her has inspired me to want to expand my heart and my tantra experience. Sophia will bring light to your soul, this is energy touched by creator and she wants to give it to you, please dont wait to see her, so so beautiful..
*Tam*
May 6th, 2021
I'll keep this simple. I left today feeling so clear headed and ready to take on the world. The best session I have had at the temple to date and its going to take a miracle to top it. Sophia is a wonderfully welcome and warm individual with a beautiful spirit. Treat her with the utmost respect.
*MaF*
Mar 2nd, 2021
Few days ago, I had my third session with Sophia, she was so attentive and she is extremely beautiful inside and out. I can't wait to have another session with her
BuBd*
Dec 5th, 2020
So lucky to meet Sophia! You will feel like you have known her for years at the first minute,excellent therapeutic healing and very nice tantric practice. Very well travelled, and a nice person to meet, you will feel like coming back too see her. Interesting to talk to,
*Al*
Oct 27th, 2020
Aura was fantastic, she was incredibly caring and loving, I loved the therapeutic aspect as much as the nurturing.. She's really amazing.
*Rica*
Aug 23rd, 2020
Amazing energy and will for sure book another time with her!
*DaS*
Aug 19th, 2020
Today I have a wonderful experience with Aura and Luxy, Both are so beautiful, I can't
describe the feeling being with 2 angels, I had an heavenly session They will be my regular, and i wish i can stay longer with them. even overnight with them is not enough. They are really angels sent from heaven !!
i really wish i can spend more time with them
*BuBud*
Aug 18th, 2020
Aura is recent addition to the Temple and is a new favorite. She is as amiable as she is stunningly gorgeous, with an easygoing girl next door charm. My doubles session with Aura and Dream was a fully chakra engaging, beyond amazing, dream come true. Thank you Aura, for helping me to redefine bliss.
*KL*
Aug 14th, 2020