Dhyana Devi
Level III Tantrika
Experienced Tantra Dakini Returns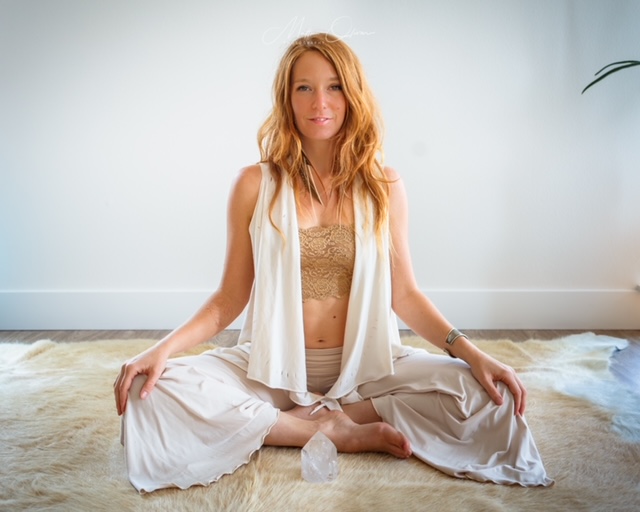 In this time of Great Turning on planet earth, we are collectively discovering how to create the world we want to live in. Tantric awakening is at the heart of this endeavor. When we come home to ourselves, it is wholly evident that we are divine by nature, and once we fully embody this, we can begin to consciously create our realities. 
This is why I am passionate about what I do. As a healer, I've seen countless people transformed by the power of this work. Yes, it is ecstatic and blissful and relaxing. But its effects on one's life leads one to deeper fulfillment, purpose, meaning and satisfaction- because we are fully embracing and celebrating all of being human. This doorway shows us our truth. And, if we say yes to all of it, we then show up in the world with our cup overflowing, wanting to serve with renewed vision, connected to our desires, and willing to walk an aligned path of integrity and compassion, even when we are challenged. 
When we liberate our Shakti, we liberate our lives. It gives us courage and empowerment. And that has ripple effects. 
Therefore, as I told a client recently, Tantric Healing is not just about ourselves. It is about our beloveds, our friends, families and communities. It is a political act. It is doing our part for the world, and for the future. 
My part to play, as Tantric Dakini, means I get to share my gift, my transmission of Embodied Divine Love. I serve at the Temple of Bliss to reach people on their journeys of awakening. My sessions are tailored for each individual and blend a diverse array of healing modalities: reiki, sound healing, full-contact Lomi-Lomi, acupressure, psychic and intuitive channeling. I always begin with some energy work to balance the system and work into deep, long flowing strokes with an emphasis on opening channels and clearing blockages. When I teach tantra, I love going into extended meditative states with my clients, opening to receive deeply from the Divine within and without. 
These days, I especially love working with couples and women, and offer womb-healing sessions and shamanic trauma-healing sessions for female-identified people. Sisterhood is a huge part of my life, and I love being an guide and mentor for sisters exploring their full erotic potential. 
~~~~~~~~~~<<<<=======>>>>~~~~~~~~~~
My Initiations, Path and Training:
11 years practicing Tantric Dakini, 6+ years at the Temple of Bliss

International School of Temple Arts (ISTA) Level 1 & 2- 2020, 2021 & 2022

Kedesha Temple Training 2022

Dragon Path Mystery School 2021-2022 with Maria Christina Owl

Hudson Method of Somatics with Jonathan & Heike Hudson- 2019

Earth-based ritual facilitator training: grief rituals, ancestor rituals, soul retrievals with Maria Christina Owl 2018-2019

Hathor Priestess Initiation with Akara Sophia- 2019

Global Light Leader energy medicine training with Maria Christina Owl 2018-2019

RYT-200 alignment-based Hatha yoga instructor with Daniella Cotreau at Body Temple Yoga School 2017

Trained with late Master Tantrika, Shakti Malan 2012-2017

3 visits to John of God, Brazil 2017-2018

Dancing Freedom shamanic dance facilitator trainings with Samantha Sweetwater: 2010-2016

100-hr massage training at Harbin School of Healing Arts- 2014

Reiki Master certification with Christopher Campbell 2013

Initiations with Ayahuasca & Huachuma, Sacred Valley Peru, 2009 & 2014, plus 13 years of plant medicine ceremonies 
Temple Workshops ~ Ongoing Education:
2/19/17  SACRED UNION: Honoring the Beloved Within. ~A Devotional day of Sound Healing-Gong Bath & Crystal Bowls, Herbal Cacao Tea Ceremony, Prayer, Mind & Energy Clearings, Kirtan/Chanting, Kundalini Yoga, Shamanic Temple Dance, Hands on Healing, Tantric Essays & Reflection. Led by Queen Love, Ciela Belle, Sasha Nicole, Lakshmi Devi, Kali Dawn and others.
1/21/18 EMBODIED SHAKTI: Honoring the "Me too" movement as Temple Priestesses ~ how to be impeccable to right alignment with feminine/masculine energies, Intro on how to self-care & cultivate energy with Jade Eggs, Tantra Darshan, Tantric pointers. Led by Queen Love, E Bast & Halo Seronko

See My Personal Schedule and Book

To Submit Your Testimonial Click Here
You will empty your brain of any thoughts. You will be present. You will witness the magic. Dhyana is magical and knows how to read your needs like no other. She connects on a level much deeper than any others I have experienced before and the only way to understand what I mean by that is to spend time with her. A warning has been served and I promise you that you are not ready for what follows when you are see her.
Os*h*
Sep 1st, 2022
Our session with Dhyana as a couple was healing and very pleasurable. We used our time together to release the sadness in my womb, so I could make room for more delicious pleasure and ease in my body and relationship.
Dhyana is gifted! Her touch, timing, and words of guidance and affirmation connected me to the deepest parts of myself, and in turn, this opened up a new doorway with my partner. We are even more connected because of our time with Dhyana. I highly recommend her to fellow women and couples. Let yourself unravel in her loving hands!
*snow*f
Aug 8th, 2022
In the early 2018, I had the most memorable time with Dhyana. She was sweet, Professional, Very knowledgable and she knew what she was doing. I had learned a lot from her. I left the session with a beautiful feeling. She made me clear my head and soul from all the negativity. I can't wait to see her again in NY locations.
Thank you Dhyana for being truly amazing.
*OCN*
Apr 10th, 2020
A truly extraordinary experience. Dhyana is absolutely outstanding in ever way. Spending time with Dhyana is a true gift, and I'm anxiously looking forward to seeing her again soon! Simply said, thank you Dhyana!!
*KV*
Jan 19th, 2018
Incredible session. Peaceful, exciting, and welcoming. 11/10 stars
*JoFl*
Dec 28th, 2017
Wow. What a great experience. This was my first time and Dhyana was perfect. I am excited to go back next time I come to SF. Can't more highly review this experience, highly recommended.
*Jb*
Feb 17th, 2017
A excellent experience of liberation.
*MikW*
Aug 28th, 2016
Now I get why it's called "body of bliss" massage. Dhyana was perfect in every way!
*Pe5*
Aug 18th, 2016
Dhyana was fantastic with my wife's first time last month! Patient and gentle. I look forward to returning.
*nort*
Jul 20th, 2016
There is a Priestess who goes by the name Dhyana Devi at the Temple of Bliss collective in the San Francisco Bay Area. On her bio page on the TOB website, she has 17 testimonials from TOB clients who sing her praises as the be-all, end-all, when it comes to being a masterful practitioner of the healing arts. These clients toss around adjectives such as amazing, delightful, giving, incredible, magical … (and that's just A through M) to describe the talents of this young lady, whose heart's desire since she was young was to be a Priestess. -And so, you are confident that somehow the review system must be tainted because 17 people, surely, can't all independently come to the same conclusion and have nary a discouraging word to say. -But they did. All 17 of them. So take it from one who spent 4 hours with her recently that Dhyana is everything they tout her to be, and then some. -Though I had never met this Priestess of the Universe who is highly loved, I had done my homework and research well-enough to know that hers was a connection I wanted to make (hey, if I'm investing nine Benjamins for four hours, you better know I'm going to do all I can to protect my investment). -We met on a Tuesday morning at a quaint cottage in the Santa Cruz Mountains and I was instantly drawn to this lovely redhead with a warm smile and soft and inviting hazel-brown eyes. Over the next two days we touched each other both emotionally and physically to such a degree that even if I never see this Heaven-sent Priestess again, I will die a happy man someday. Just knowing that the only thing that mattered to each of us was each other, was (and is) enough to fill my heart with sweet, sweet love for eternity. It is also the answer to the age-old question: What is our purpose here on this planet we call Earth?
*GreLo*
Jun 24th, 2016
What's up with the testimonials? A plethora for three years and then nothing for the next three? Hmmm ... GreLo
Temple: This lovely dakini was with us years ago, then went off to do some work on her own in another space(not affiliated with the Temple), as well as she took a huge chunk of time off simply pursuing her personal spiritual path. She is top-notch. We are pleased she has returned to us for a sweet window of time.
*GreLo*
Apr 25th, 2016
Dhyana Devi has a magical way of connecting with you which make you feel special.
*mikWs*
Jun 30th, 2013
Wonderful time with a lovely girl... I'm still hooked.
lostatsea
May 10th, 2013
Dhyana Devi has a Heart of Gold! An unforgettable, experience.
*ro**
Apr 7th, 2013
World Rocked - Check. Will repeat - Definitely.
*Bob*
Mar 2nd, 2013
She is incredible. A sweet heart and great personality.
*GeoH*
Feb 6th, 2013
hooked, utterly and completely.
lostatsea
Sep 1st, 2012
Highly enjoyable couples experience!
*ss012*
Jul 13th, 2012
A superb time with a delightful goddess!
truebrit999
A beautiful and talented Tantrika with a perfect touch
bioengineered
Pretty girl, beautiful massage, Very warm connection
Lotsmore
Second visit. At least as good as the first visit, and what a connection.
AvalonTech
Personable, beautiful, great attitude. Perfect experience.
Ravished
Lovely person with a lovely heart; had a very good time
smurfmigraine
nice connection with a very pretty gal
johnndoh
Dhyana Devi is refreshingly real, grounded and sweet. Catered to my massage with lavish loving.
*jshe*
Sep 6th, 2011
Wonderful massage and fantastic experience with a natural beauty.
simon100
Amazing. Don't go, so I can keep her for myself.
A*T