Gaia Eden
Advanced Tantrika & Teacher
Couples~Women~Men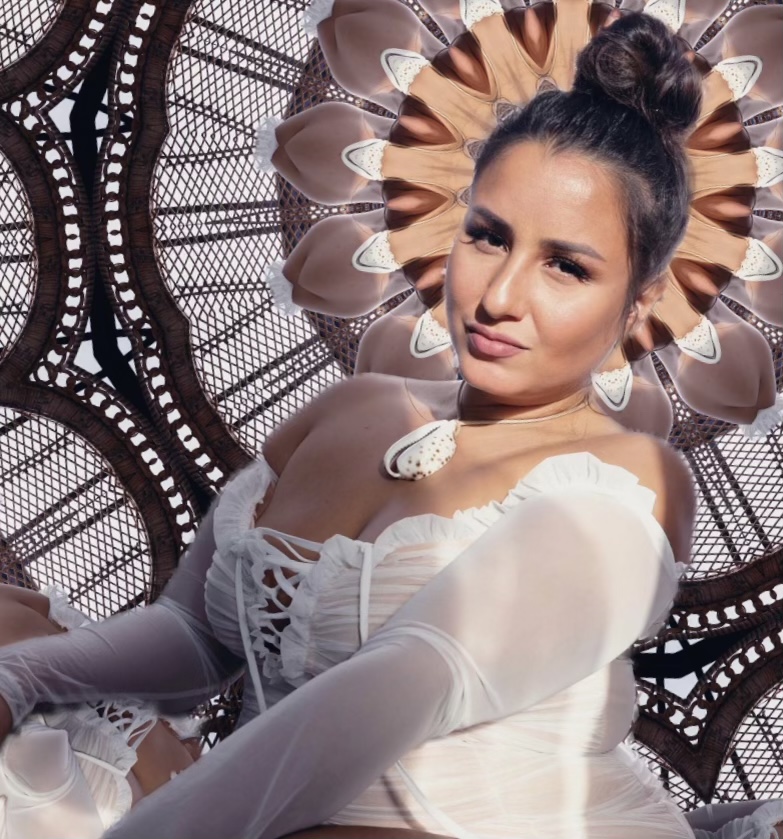 6 years Temple Experience
Greetings Sacred Souls,
My name is Gaia and I am an intuitive healer and guide. I can help you experience sublime bliss as we incorporate: breath work, sacred rhythm, crystals, sound healing, chakra clearing and touch. I am loving and warm. I am here to help you grow.
Available to Men, Women & Couples.
Kundalini Bliss Session
Relax your body, and open your heart. This session is the perfect way to tap into a blissful state of being. Surrender to the moment as I realign your energies, nurture you, and bring you to bliss on a cellular level.
Tantric Bodywork
Kundalini Bliss meets exhilarating adventure. This session goes even deeper as we incorporate magical techniques that will translate into your everyday life. This session is all about connection, and honoring the divine. Prepare to emerge empowered and blissed out.
Couples 
Connect with your partner and strengthen your bond. Experience techniques that encourage communication without words and that fosters a playful and open dynamic. I've worked with brand new couples to those who have been married for over 35 years. I'm honored to be your guide.
Women
Besides the above offerings, we can also focus upon womb massage and other techniques that encourage healing and empowerment specific to the feminine experience. These sessions are celestial.
Cleansing Baños
Channeling the cleansing rituals of my ancestors, I will prepare for you a sacred bath intended to purify your aura and soothe your spirit. Magical ingredients like flowers, honey and your intentions will surely create a cleansing in your world. Begin or end your session with this ritual. Must book in advance and only available at select Temple locations.
Extended Journeys
Allow me to be your guide throughout a day of relaxation, reflection and laughter. We may visit a museum, reflect at the spa, or take a lovely walk for example. Our journey would then round out with sacred bodywork.
I look forward to the day.
in Holy Love,
Gaia Eden Mirabai GEM
Tantra Yoga Therapist, Energy Bodyworker, Teacher, Spiritual Counselor, Life & Love Coach. *7 years experience

See My Personal Schedule and Book

To Submit Your Testimonial Click Here

This was truly a one of a kind experience. When I had my session with Gaia, it changed my perspective when it comes to a tantra massage. We first began with a simple conversation which then lead into a profound one. The conversation simply became deeper and genuine. It felt like I was pouring out all my insecurities and traumas. She merely accepted them with ease and helped me learn to let go and enjoy the "now" of life rather than worry about the "later" . She helped me to open my eyes when it comes to a genuine tantra session. It felt like I was in water; floating effortlessly in the ocean.
FP*
Sep 29th, 2022
Unreal Experience I had tons of Tantric sessions around the Globe but nothing compared to Gaia Eden..Amazing
*GW*
Nov 20th, 2021
Gaia Eden "Mirabai"... GEM of the Mama Earth: Strong, clear channel, unique, grounded, brilliant light and deeply nurturing. "Mirabai" came to me in the session I just had with Gaia. Mirabais are known to have psychic power and can carry on for others with joy. Mirabais have a receptive nature and may bear burdens for others. Yes, Gaia Eden Mirabai, you Mama Earth Shamana Transmuting Gem Witch. Gaia brings all her medicine stones, oils and charms to the table to create her magic. She has been with the Temple 3 years now, so today she graduates to Level 3. Be Blessed as you Bless.
*Queen Love*
Mar 29th, 2019
I consider myself fortunate and blessed to have met Gaia. I was lead to her during a time in my life that was heavy with darkness and despair. I felt lost and stuck when I reached out to Gaia.
As a fairly accomplished psychologist and professional, I consider myself awake to the world and have helped many people face their dragons and persevere. I have also sought psychotherapy for myself in the past yet Gaia has taken me deeper into myself then others before. Many things that took me years to learn in school and then teach to my clients seem to come organically and effortlessly to her. True to her name, she is like Mother Earth- a natural healer and nurturer. She always has the right breath, touch or words to help me get unstuck and moving forward. Psychology and science do not yet have the words to describe what I have experienced with her.
*PYTH*
Mar 29th, 2019
The best at this temple. Personality, Energy , beauty... just mind blowing.
*Ad2*
Sep 9th, 2018
Good morning Gaia Eden, I last got in contact with you in February or March. I just wanted reach out and let you know how I'm doing these days.
Your gift of providing a loving space and moment for me last year was and is precious to me. The months before seeing you were trying and brutal. In hindsight, I believe I was closer to death than I realized at the time. This time last year, I was emaciated, without hair and almost ready to give up taking chemo; to let the cancer do whatever it was going to do to me. I was struggling that much.
You were a part of my restorative process to returning to myself. When you saw me, I was on my way, but far from a full return. You helped heal me and feel something good in my body for a change. I thank you so much for that and is a big reason why I search for you when I know I'm headed to NYC.
It's a year later from one of the low points of my life. I am in a much better place. I have control of my body and mind once again. I can do things I took for granted before chemo stripped me of them.
I have no immediate concrete plans to visit NYC in the near future. I'm not even sure you are in NYC these days. Nevertheless, it was on my spirit to write to you and tell you all of this.
Thank you for your beautiful, caring, intimate and blissful role. It was the first time and I hope not the last. But if it's to be only time, it was a lasting time for me.
I hope you are well and sharing that welcoming and healing spirit of yours with the world, and that it is received fully as it should be. Much love and gratitude, M
*M*
Jun 7th, 2018
I received a one hour + 15 minute loving & nurturing massage from Gaia last night... Sweet, relaxing, nurturing, slow moves, tender, trance-inducing bliss. She's a Magical Gem. ~ Queen Love
*QL*
Oct 18th, 2017
Saw Gaia when she was in LA and she was spectacular!! Saw her last year a couple of times and this year once. She has a beautiful heart and a kind soul!! She knows exactly how to make someone relax. Honestly, she is the best massage I've ever had. Please please come to LA more often!!!
*Bir*
Sep 27th, 2017
Gaia was a true Tantra practitioner. Her dedication to the craft was exemplary throughout the session and I left feeling reinvigorated and reengaged. Her soft touch coupled with her soothing voice will never be forgotten. She is an absolute angel and I wish I could see her more often.
*Wock*
May 14th, 2017
Gaia is absolutely amazing. I left feeling incredibly relaxed and had such a wonderful time. I have seen her three times now.
*Gats*
Aug 29th, 2016
Gaia is so attractive on the outside. However, so much more important is the deepest beauty of her inner soul. It radiates. Thank you Gaia for encouraging me in my own journey "to gift back" to myself. All blessings to you!
*bfy*
Aug 4th, 2016
This Godess is amazing- I get lots of massages and this was a total different level Tantra- some things can be taught, learned, practiced, but she is born with the touch and ability to make you feel amazing. The best Tantra massage yet- next level- just try her out and let her do what she wants to do and you will thank me later.
*JE*
Jul 5th, 2016
My session with Gaia was incredible! From her soothing and gentle voice when she greets you, all the way through, till the warm hug she leaves you with. She is an exquisite therapist, her touch was amazing and she left me feeling rejuvenated. After my session with Gaia I felt so good that I just wanted to stay laying down and not even move. I will definitely see her again. I already can't wait any longer!
EJ
Jun 22nd, 2016
"Goddess Gaia"... this woman weaves white hot magic with her touch, energy, voice and nurturing presence. As a woman, I sometimes feel self-conscious and shut down in my body when I am not feeling 100% in a fit-form. There is a subtle contraction that occurs within me. In my Therapeutic Spa Massage session with Gaia today, I felt myself expanding again, awakening from the inner cocoon of a flower, to truly feel embodied in my beauty. Honestly, how nice is that? - To feel alive in one's own beauty? This was a therapeutic massage and yet I definitely felt all my senses alive. Her touch is not a "deep tissue" style, but a very nourishing one which completely rebooted my system. Thanks Gaia! ~Shivakti
*SS*
Jun 4th, 2016
From the moment she welcomed me at the door, Gaia made a deep impact on me as a genuine, sensual and very warm person. When she turn around and started walking to the room, her walk had the grace of a dancer. Her figure reminded me of a belly dancer. An hour spent with Gaia was not enough. I had to empty my pocket to spend more time with her. Gaia by far is one of the best Tantrikas at the Temple I have worked with. Highly recommended.
*GloTro*
Jun 1st, 2016
Great goddess energy and beautiful. Very skilled and knowledgeable. A++
*SaU*
May 6th, 2016
Gaia was warm and exquisite. I really enjoyed my session and felt amazing for hours!
*Ti*
Apr 12th, 2016